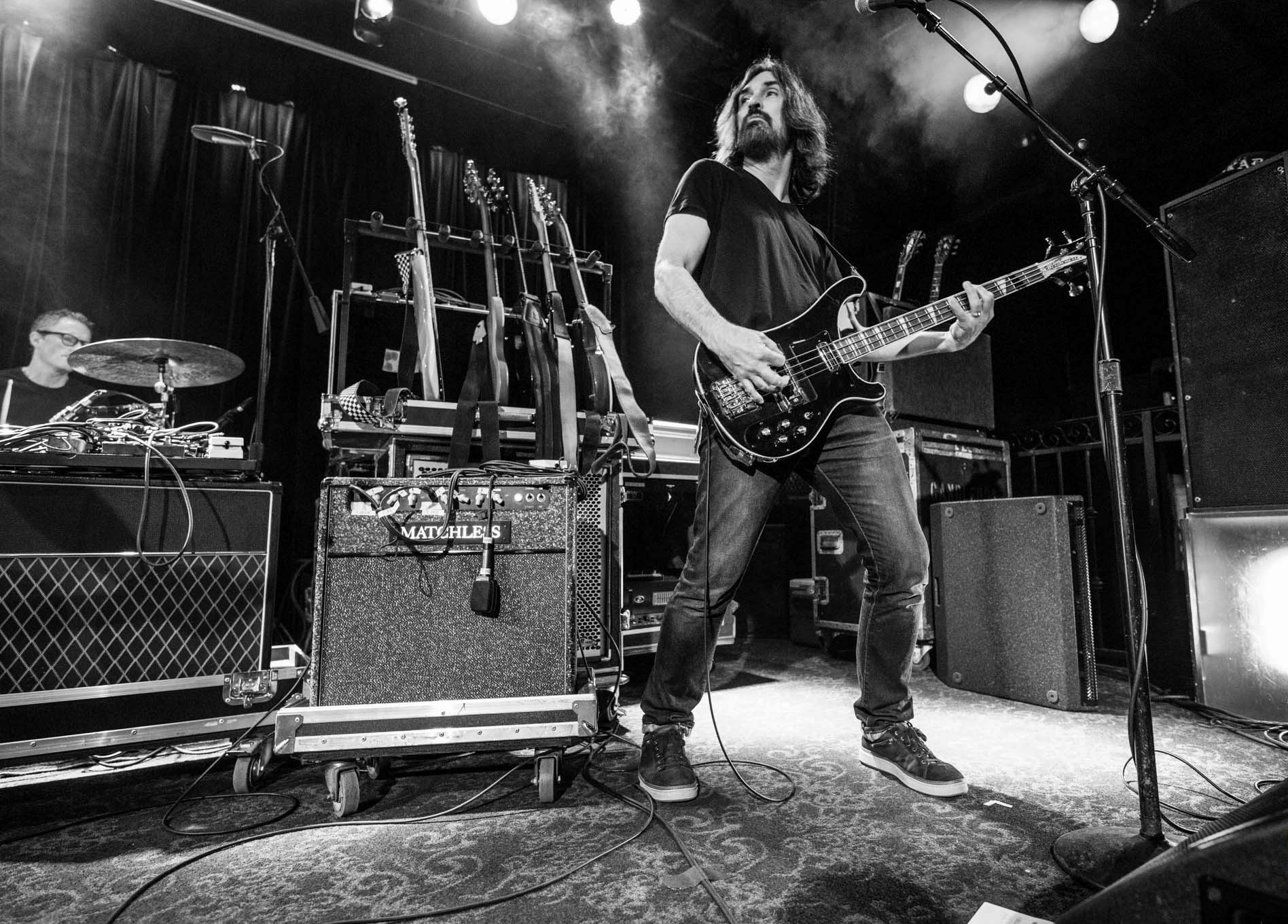 "SONS OF SILVER's post-rock sound packs enough power for THEm to be considered an arena rock contender while still remaining smooth and sophisticated." – Diffuser.fm
"Sons Of Silver truly fulfill their intention of creating music that leaves the listener more aware of their place in the world. I like music that makes me feel connected to the musicians who created it. And Sons Of Silver definitely succeeded in doing that. I hope I have an opportunity to get caught up in their orbit again."
"Tender Souls reminds me of the best of Euro-80s melodic rock." - Radio Informer
"With Heaven Knows," they drop a pop-influenced burst of cowpunk ferocity that's sure to rattle the bones in your body and inspire some truly wild dreams." - Nooga
"Speckled with hints of Neil Diamond, Leonard Cohen and Matt Berninger, Peter Argyropoulos is blessed to have a voice so unique, so enchanting and so captivating. It is that voice and its intrinsic charisma that will carry RG forward in the months and years to come." - Absolute Punk
"The warmth of a troubadour brought up on the traveling spirit songs of The Boss, and other canonical idols, brings about a spark that rests in a kind of a warm subtle glow with a brightness to entrance the glass windows of a lantern." - Impose Mag
January 2019 – The most memorable music remains the most human.
It makes a connection on a physical and emotional level by displaying life's blood, sweat and tears. It mirrors the experiences and amplifies the voices of its creators. Through real instrumentation, raw delivery and honest stories, Los Angeles quintet Sons Of Silver— Peter "Pete RG" Argyropoulos [vocals, guitar], Brina Kabler [keyboards, vocals], Adam Kury [bass], Dave Krusen [drums], and Kevin Haaland [lead guitar]—strikes a personal chord.
"We're truly a band, first and foremost," says Peter. "We're collectively making music. It's an old school approach. Get several musicians in a room together and capture a moment. All of that creates something rich and diverse. Something human."
Under the previous name Pete RG, the group quietly attracted an impassioned fan base, worldwide. Following a pair of EPs—Lightning Strikes [2015], and Reaching for the Moon [2015]—2016's Tender Souls album garnered critical acclaim and looks from the likes of Impose, Blank TV, and Elmore Magazine. The group toured extensively across North America playing major markets like Los Angeles, Chicago, Boston and New York. They also crossed the Atlantic, hitting London, Paris and Berlin, among others. After two years on the road, the sound evolved, as did the identity. What began as a solo artist had evolved into a band.
"Spending all that time on the road really brought us together," he goes on. "Our whole approach changed. We were no longer a singer-songwriter project. We were a group of people equally sharing ideas. We were a band. It made sense to have a name that reflects it." Changing from Pete RG to Sons of Silver feels like a natural progression. There's still a connection to Peter as the front man, since Argyropoulos roughly translates to 'Son of Silver' in Greek. "The new songs capture all of our voices. It's louder. It's evolved from being centered around one person's outlook to multiple outlooks meshing together. It's like we went from dating to being married," he laughs. "We're not leaving behind what it was. We're pushing off of it to move forward as a new entity."
Sons Of Silver hinted at that new direction in the first single, "Watching the River Go By." Out of the gate, it illuminated the group's nimble sonic sensibility, veering from a propulsive rhythm into a massive chant.
Driven by airy, ethereal guitars and stark percussion, the 2019 follow-up single, "Down," hinges on the frontman's gruff and gritty intonation before a hypnotic and haunting hook. "The lyrics reflect what I'm thinking. Our world's in the middle of unsettling change. We're at each others throats. We're left feeling like we're not on firm ground."
Hummable and hard-hitting riffing snaps into a catchy chorus on "Never Enough." He admits, "The lyrics came from some people in my life who are never satisfied. I put that into the bigger picture. There seems to be a lot of unsatisfied people right now."
In the end, Sons of Silver make rock 'n' roll of the most human variety.
"When you listen to us, I'd like for you to be actively inspired," he leaves off. "Hopefully, our music encourages people to be conscious and self-aware of the impact they leave on each other and the world."
Sons Of Silver will be touring the US in March-June 2019 behind a series of singles leading off with Never Enough. The band will continue to tour the US in the summer and return to Europe in the fall.
Fall 2018 UK Tour Dates:
Nov 6 • Brixton, UK • The Windmill
Nov 7 • Nottinghamshire, UK • Rough Trade
Nov 8 • Manchester, UK • Night & Day Café
Nov 9 • London, UK • The Monarch
Fall 2018 US Tour Dates:
Sep 4 • San Francisco, CA • Hemlock Tavern
Sep 5 • Sacramento, CA • Old Ironside
Sep 7 • Oakland, CA • Stork Club
Oct 4 • Louisville, KY • Magnolia Bar
Oct 5 • Cleveland, OH • CODA
Oct 6 • Columbus, OH • Tree Bar
Oct 8 • Raleigh, NC • The Pour House
Oct 9 • Philadelphia, PA • Ortlieb's
Oct 10 • New York, NY • Bowery Electric
Oct 12 • New York, NY • Piano's
Oct 13 • Cape Coral, FL Nevermind Awesome Bar
Oct 14 • Charlotte, NC • Petra's
Oct 15 • Nashville, TN • The Cobra
Spring 2018 US Tour Dates:
May 2 • San Francisco, CA • Hemlock Tavern
May 4 • Oakland, CA • Uptown
May 5 • Nevada City • Cooper's
May 10 • Seattle, WA • Slim's Last Chance
May 11 • Tacoma, WA • Jazzbones
Jun 8 • New York, NY • Piano's
Jun 9 • Burlington, VT • Finnigan's Pub
Jun 10 • Burlington, VT • Sidebar
Winter 2017 US Tour Dates:
Feb 26 • Charlotte, NC • The Evening Muse
Feb 27 • Raleigh, NC • The Pour House
Mar 1 • Lexington, KY • The Burl
Mar 2 • Knoxville, TN • Preservation Pub
Mar 3 • Chapel Hill, NC • The Station
Mar 4 • Athens, GA • Live Wire Athens
Mar 5 • Birmingham, AL • The Nick
Mar 6 • Nashville, TN • The Basement
Winter 2017 European Tour Dates:
Jan 17 • Sub 89 • Reading, UK
Jan 18 • Talking Heads • Southampton, UK
Jan 20 • Plug • Sheffield, UK
Jan 21 • Think Tank? • Newcastle, UK
Jan 22 • G2 • Glasgow, UK
Jan 24 • Slade Rooms• Wolverhampton, UK
Jan 25 • The Globe • Cardiff, UK
Jan 26 • The Fleece • Bristol, UK
Jan 27 • The Underworld • London, UK
Jan 28 • The Crauford Arms • Milton Keynes, UK
Jan 30 • Winston Kingdom • Amsterdam, Netherlands
Jan 31 • Les Etoiles • Paris, France
Feb 2 • Rockfabrik • Ludwigsburg, Germany
Feb 3 • Rockpalast • Bochum, Germany
Feb 4 • Kleine Freiheit • Osnabrück, Germany
Fall 2016 Tour Dates:
Oct 12 • Chicago, IL • Schuba's
Oct 13 • Indianapolis, IN • Melody Inn
Oct 15 • Montpelier, VT • Sweet Melissa's
Oct 16 • Burlington, VT • Sugarhouse
Oct 17 • Morrisville, VT • Moog's Place
Oct 19 • New York, NY • Bowery Electric
Oct 21 • Binghamton, NY • Cyber Cafe West
Nov 4 • Los Angeles, CA • Hotel Cafe
Nov 5 • Joshua Tree, CA • Joshua Tree Saloon
Nov 10 • San Francisco, CA • The Elbo Room
Nov 11 • Reno, NV • Rockbar Theater
Nov 14 • Missoula, MT • Badlands
Nov 15 • Lewiston, ID • Boomtown
Nov 18 • Salem, OR • Elsinore Theater
Nov 19 • Portland, OR • Roseland Theater Theater
Nov 22 • Los Angeles, CA • Regent Theater
Spring 2016 Tour Dates:
Apr 1 - Louisville, KY - Mercury Ballroom
Apr 2 - Cincinnati, OH – Bogarts
Apr 3 - Indianapolis, IN - The Vogue
Apr 5 - Dallas, TX – Trees
Apr 7 - Houston, TX - Scout Bar
Apr 8 - San Antonio, TX – Fitzgeralds
Apr 9 - Tyler, TX – Clicks
Apr 10 - Lubbock, TX - Jake's
Apr 12 - El Paso, TX - Speaking Rock Entertainment Center Spirit Garden
Apr 13 - Tucson, AZ - Rialto Theatre
Apr 15 - San Luis Obispo, CA - The Fremont Theater
Apr 16 - San Francisco, CA – Slims
Apr 19 - Butte, MT - Butte Depot
Apr 20 - Billings, MT - Pub Station
Apr 22 - Denver, CO – Marquis
Apr 23 - Pueblo, CO - Pueblo Memorial Hall
Apr 26 - Little Rock, AR – Metroplex
Apr 27 - Monroe, LA - Live Oaks
Apr 28 - Baton Rouge, LA - Varsity Theatre
Apr 29 - Panama City Beach, Club La Vela
May 3 - Annapolis, MD - Rams Head Tavern
May 5 - Nashville, TN - 12th and Porter
May 7 - Marietta, OH - The Adelphia Music Hall
Fall 2015 Tour Dates:
Sep 12 - NYC - Piano's (Residency Show #1)
Sep 14 - Clifton Park, NY - Trick Shots
Sep 15 - Boston, MA – O'Briens
Sep 16 - Burlington, VT - Radio Bean
Sep 17 - Amityville Music Hall - Amityville, NY
Sep 18 - Philadelphia, PA - North Star Bar
Sep 19 - NYC – Piano's (Residency Show #2)
Sep 22 - Brooklyn, NY – King's County Saloon
Sep 23 - Binghamton, NY - Cyber West Cafe
Sep 24 - Oneonta, NY - Black Oak Tavern
Sep 25 - Mt. Kisco, NY - MTK Tavern
Sep 26 - NYC – Piano's (Residency Show #3)
Oct 29 - Eugene, OR - Sam Bond's Garage
Oct 30 - Seattle, WA - Barboza
Oct 31 - Greenville, MS - Harlows Casino
Nov 5 - Tucson, AZ - Flycatcher
Nov 6 - San Antonio, TX - 502 Bar
Nov 7 - Cleveland, OH - East Flats Festival
Nov 11 - Indianapolis, IN - Melody Inn
Nov 12 - Chicago, IL - The Abbey Pub
Nov 14 - Los Angeles, CA - Hotel Cafe
Spring 2015 Tour Dates:
Mar 3 - San Diego, CA - Soda Bar
Mar 4 - Los Angeles, CA - The Mint
Mar 5 - San Francisco, CA - Mason Social House
Mar 7 - Portland, OR - White Eagle Saloon
Mar 8 - Seattle, WA - Sunset Tavern
Mar 24 - Boston, MA - Midway Cafe
Mar 25 - New York, NY - Piano's
Mar 26 - New York, NY - North Star Bar
Apr 13 - Minneapolis, MN - First Avenue (7th Street Entry)
Apr 14 - Chicago, IL - Empty Bottle
Apr 15 - Indianapolis, IN - Melody Inn
Apr 16 - Cleveland, OH - Wilbert's
Official supporting stations include (but, not limited to):
WSUM – Madison, WI
KQAL – Winona, MN
KUPS – Tacoma, WA
KUSF – San Francisco, CA
URBAN KNIGHTS – Academy Of Art University – San Francisco, CA
WBNY – Buffalo, NY
WBWC – Cleveland, OH
WFCF – St. Augustine, FL
WONY – Oneota, NY
WRHU – Hempstead, NY
WUDR – Dayton, OH
WVCW – Richmond, VA
KMNR – Rolla, MO
WRHU – Hempstead, NY
KCSS – Turlock, CA
KDUR – Durango, CO
KWCW – Walla Walla, WA
KWTS – Canyon, TX
KXUA – Fayetteville, AR
WRLC – Piscataway, NJ
WAKE – Winston Salem, NC
WBWC – Berea, OH
WCUR – West Chester, PA
WECI – Richmond, IN
WIPZ – Kenosha, WI
WMSE – Milwaukee, WI
WONY – Oneonta, NY
WRRG – River Grove, IL
WXJM – Harrisonburg, VA
WXVU – Villanova, PA
KBSU – Boise, ID
KMNR – Rolla, MO
WHRW – Binghamton, NY
WONY – Oneonta, NY
WRHU – Hempstead, NY
KAOS – Olympia, WA
KCSS – Turlock, CA
KSPU – Seattle, WA
SCAD – Savannah, GA
WAKE – Winston-Salem, NC
WBWC – Berea, OH
WRRG – Chicago, IL
WUOG – Athens, GA
WVAU – Washington, DC
WVMM – Mechanicsburg, PA
WWHR – Bowling Green, KY
WXJM – Harrisonburg, VA
KVMR – Nevada City, CA
WDWN – Auburn, NY
KUOM – Minneapolis, MN